The sky touching hike of the price of gas-cylinders in India has made the country tensed. The Govt. of India passed a law that said every household will get only 9 cylinder of yearly quota, be it HP Gas, Indane Gas or Bharat Gas. Another disturbing catch is the price of LPG is more than double now. In such a depressing scenario, Induction cookers come as a boon. You may heave a sigh of relief as those come armed with the latest features to facilitate cooking within minimum time and what more? Unbelievably your electric bills do not give you the creeps. The market is flooded with innumerable models of induction cookers so as to leave you confused. Though many are low priced with sleek exteriors, in case of induction cookers, you better go for quality and your safety.
The technology is made cheaper these days so that common people can also avail to it. It is on the way to become the ultimate solution for the increasing cost of energy today.
Below are the top 5 best in the range of Induction cookers in India.
1. Philips HD4907 Induction Cook Top
Philips is the perfect blend of quality, unthinkable price and amazing features. It has been associated with the Indian market for many ages now and has become one of the trusted brands in the country. You can cook any dishes like Roti, dosa, gravy, curries etc through this safe and slow cook pressure cooker. The induction comes with six preset menus for which you can set the timer from 1 minute to 3 hour. The additional safe switches provide you security from any kind of unwanted accident and danger.
Philips HD4907 Induction cook top will cost you Rs 1995.
Features and Specifications
120 – 2100 W variable power setting
220 – 240 V, 50/60 Hz Voltage
8 Power levels
6 pre-set cooking modes
LED display
Cool-to touch ceramic surface
Easy to operate push buttons
Extra safe automatic off function
Advanced heating technology for safe & easy cooking
2. Inalsa easy cook Induction cooker
Inalsa is all about quality and lower cost price. It has been able to make a good name in the market wing to its good quality maintenance and research and development in the consumer section.
Induction cookers from Inalsa comprises of unmatched strength and great features. The shiny crystal glass front can be easily handled and the controls effortlessly pushed from your fingers. The induction cooker from Inalsa has a wonderful energy saving technology too. The cooker can cook in variable temperature and timer selection. It has an easy-to-operate digital display and the most interesting feature is that, the machine won't start unless you put your utensil on it.
Inalsa Induction cooker comes at Rs 2095.
Features and Specifications
220 – 240 V AC, 60 Hz voltage
8 Cooking Modes Selector
Digital Display
Variable Temperature, Timer and Power selection
Easy to operate controls
Auto Shut Off
Flat, Clean, Elegant Cooktop
Easy to Operate Controls
3. Bajaj ICX 6 induction cook top
The brand Bajaj is known for its affordability and reliability quotient in the market. Most housewives in India opt for Bajaj's kitchen appliances because of the trust in their quality and affordable prices of the products related to them. Induction cookers by this brand are rich in characteristic value like quality and price. Few of the top notch features include beautiful cook-top, easy controls, variable timer and temperature selection, digital display and can also be easily operated in air-conditioned atmosphere.
Bajaj ICX 6 induction cook top is priced at Rs 2320.
Features and Specifications
380 x 280 mm in dimension
5 Preset Menus
Switch Controls.
Auto Shut Off
120W to 1600W power
10 min – 24 Hrs cooking time option
70 C to 270 C variable temperature options
Countdown Timer, Wattage and Power Consumption display
Flat elegant cook top and controls
Compact, Portable & Easy to Install
4. Morphy Richards Chef Xpress 500 Induction Cook Top
Morphy Richards has a unique range of induction cookers with well equipped 11 auto cooking menus. You can regulate the intensity of cooking. The tops on these induction cookers are shiny and elegant with an array of switches fitted to accommodate your needs for cooking. The 4 digit display on it prevents any cooking related problems. It is also easy to maintain and clean. Other features include auto-shut off keeping the cooked dishes warm for a longer time.
Morphy Richards Chef Xpress 500 Induction Cook Top it affordable and available at Rs 3006.
Features and Specifications
2100 watt power
11 Auto Cook Options
Induction Cooktop
9 Power Levels
Feather Touch Control
Automatic Switch Off
Auto Shut off
Preset function
Keep Warm Mode
Sensory touch controls
5. Prestige PIC 3.0 V2 Induction Cook Top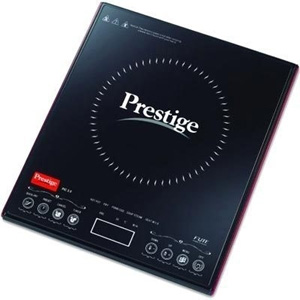 Prestige is a reputed brand in India when it comes to its superb range of pressure cooker and other items in the cooking utensils. This giant in manufacturing cookware is all about quality and affordability. The induction cooker is completely resistant towards pests and spillage of water which is a huge threat to the cooker and can permanently damage the system inside. The bottoms on the surface of Prestige induction cooker are light hence heated very fast. It provides protection from the misuse by the kids and the n fumes technology keeps your wall safe and clean. You can cook your favorite Indian dishes in a jiffy.
The price ranges from Rs 2561 to Rs 9896. The dual cookers are most ideal for large cooking.
Features and Specifications
2000 W Power
18 cm Heating Area
Elegant design
Indian Menu options
Feather touch buttons
Anti Magnetic wall
Automatic Start option
Digital display
The following two tabs change content below.
Akshay Agarwal
Entrepreneur,Life Learner Husband and Father.Proven leader in digital strategy, marketing, attribution and marketing analytics. Passionate believer in user experience and the building of community.
Latest posts by Akshay Agarwal (see all)