Wedding are always special and so are the wedding outfits. Each country has its own culture, the reflection of which is very much evident in its traditional wedding outfit for groom and bride. This post highlights the specialties of beautiful wedding dresses worn on the D-day which make them exquisite. The colors, the patterns, the styles behind these gorgeous attires have stories to tell.
So let us explore some of the most beautiful traditional wedding outfits from different countries across the world.
Indonesia
Indonesia is a country of 6 different religions and therefore weddings in Indonesia are not same at every island. For instance, weddings at Bali at resplendent with groom and bride wearing golden crowns.
Japan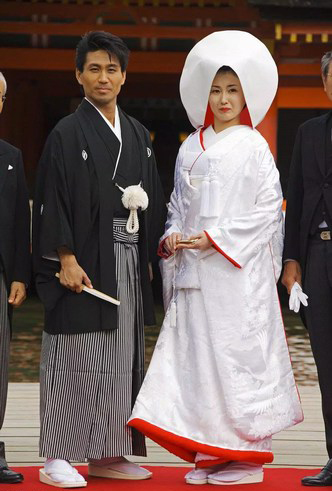 The traditional wedding attires in Japanese weddings revolve around red and white. Brides usually dress up in two or more attires for this special occasion.
India
Indian weddings are known for their gorgeous traditional lehengas for brides and sherwanis for grooms in bright shades of red and pink which are the most popular choices.
Ghana
Ghana has the most vibrant weddings. The dresses are designed in exquisite patterns which are distinctive for every family, loaded with colors adding a perfect colorful touch to the bride and the groom.
Pakistan
Pakistan's weddings are very much similar to Indian weddings. Usually, brides dress up in green or red colored shararas or lehengas on the D-day.
Sri Lanka
Sri Lankan weddings are completely mesmerizing. Usually we see the bride stealing all the limelight but here we find groom being the center of attraction as he is so smartly dressed.
Romania
These days traditional Roman weddings are limited to remote areas only. The Roman wedding attire comprises of exquisite wedding costumes that are unique for every region.
Scotland
Groom in Scotland weddings dresses u p in the traditional kilt of his clan. And once the wedding rituals finish, he puts on his bride's shoulder a shawl which is beautifully adorned with the unique colors of the clan.
Sami, North Europe
The traditional dresses of people living in Lapland speaks a lot about them. The groom dresses up in a suit while the bride looks pretty in a white dress.
Ethiopia
The wedding cultures of Ethiopia resemble with that of Russians and Greeks as they follow Christianity. The same reflects in their costumes as well which are complimented with a stylish robe.
United States of America
Weddings in America are all about beautiful whites. Traditional wedding costumes in an American wedding are crafted using classy white, especially the bride and groom dresses in black suit.
Malaysia
Malaysian weddings have strong influence Muslim traditions. The popular choices of colors include off-white, purple, lavender or violet. The bride mostly wears a hijab around her head.
China
Red is the color for traditional wedding costumes in China. It is complemented with lots of golden color. After the wedding, the veil on bride's head is removed by the groom as a ritual.
People of the Caucasus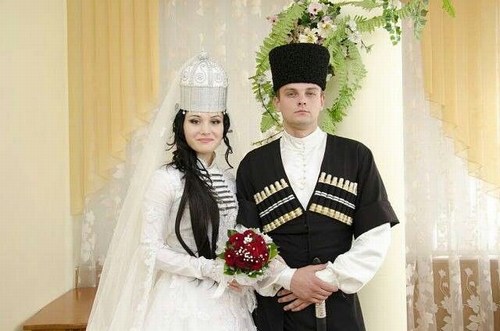 Groom wears a Circassian coat which comes with a sword attached with his belt. The bride usually dresses up in a white wedding gown which is adorned with beautiful motifs.
Yemenite Jews
The wedding costume worn by a Yemenite Jewish bride is a gorgeous garment which she inherits from her ancestors.  The other jews have no such particular wedding dresses.
Nigeria
Gele, a Nigerian head tie is a quintessential part of the wedding attire of a Nigerian bride. The wedding dress is designed using bright colors and the groom also dresses stylishly in garments no less handsome.
Norway
At weddings in Norway, the traditional attire known as Bunad is worn by the bride. And the groom is dressed with utmost elegance in a simple suit.
South Korea
The traditional wedding costumes in South Korean weddings are designed with various traditional designs on them. The headgear makes an important part of this gorgeous attire they wear on this special occasion.
These are some of the different kinds of wedding dresses worn by people from different countries depicting different cultures and customs followed by them.
The following two tabs change content below.
Akshay Agarwal
Entrepreneur,Life Learner Husband and Father.Proven leader in digital strategy, marketing, attribution and marketing analytics. Passionate believer in user experience and the building of community.
Latest posts by Akshay Agarwal (see all)