One of the best ways to wrap up a tiring day is by enjoying a glass or two of whiskey. Strong and relaxing, whiskey is a distilled alcoholic beverage created out of fermented mashed grains. Different kinds of grains such as barley, corn, rye or wheat are used.  They are kept in wooden barrels that are made out of charred white oak. They are matured with age. And as such they are stored for decades.
We are here with a list of the top 10 most expensive whiskies in the world.
1. Macallan 1946 – $460,000
This bottle of single malt whiskey in a LaliqueCire Perdue decanter was sold in 2010 at an auction, with the proceeds going to charity. This whiskey was made with peated malt because of the then-prohibitive prices of coal that shot up because of World War II. This is still considered to be a classic Macallan and one of the best ever released whiskies.
2. Glenfiddich Janet Sheed Roberts Reserve 1955 – $94,000
Glenfiddich had a barrel of Scotch whiskey that was stored since New Year's Eve of 1955. When Janet Sheed Roberts, the granddaughter of Glenfiddich's founder William Grant, passed away at the ripe old age of 110, the company decided to honor her by making 15 bottles from the said barrel. Four were kept by the family while the rest were put out for auctioning. A whiskey connoisseur from Atlanta bought one of them for $94,000. The whiskey is floral fruity and sweet tasting.
3. Macallan 1926 – $75,000
This is the oldest in the Fine and Rare collection of Macallan. It was distilled in 1926 and bottled in 1986. Just 40 of such bottles were produced. The single malt blend is dry and concentrated with no percentage of water content. The color reflects that of the old barrel. A businessman from South Korea bought this bottle in 2005.
4. Dalmore 62 Single Highland Malt Scotch Matheson – $58,000
Dalmore is a blend of four single malt whiskies that were distilled in different years. Only 12 bottles were made in 1942, each of which was given unique names that was relevant to the Dalmore Estate. The most expensive was the Matheson, named after Alexander Matheson, the owner of the estate. An anonymous buyer bought this in 2005. He opened it and finished it with five of his closest friends without taking much time.
5. Glenfiddich 1937 – $20,000
This is from the Rare Collection of Glenfiddich. It was distilled in 1937 in the company's plant in Scotland.  The barrel was left to age gracefully which was later opened and was bottled in 2001. Only 61 bottles were made at that time. The whiskey is said to have a rich walnut color, though it has hints of cedar, cinnamon, cloves and toffee. The bottle was bought at a charity auction in New York in 2006.
6. Macallan 55-Year-Old – $12,500
This whiskey was distilled in a sherry oak barrel and stored for long 55 years. The single malt whiskey was then bottled in a Lalique Crystal Decanter, made by Rene Lalique. He also created a similar perfume bottle in 1910. The drink was said to have a dark rosewood color that gave away a nice smell similar to peat smoke and sweet dried fruits. While the soft and smooth taste had a hint of citrus flavor, it was noted to be a bit spicy.
7. Dalmore 50-Year-Old – $11,000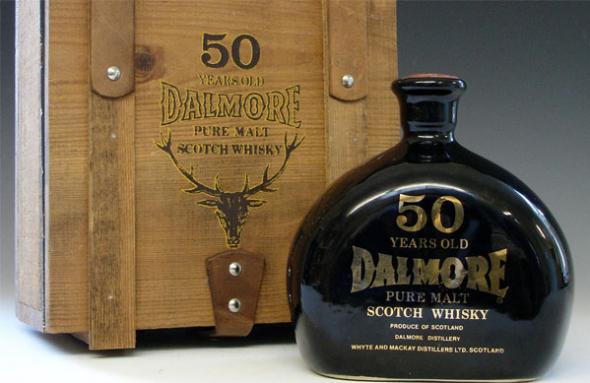 Dalmore is one of the best 50-year-old whiskies ever made.  It is a most asked for drink all over the world. The whiskey was first distilled in 1920. It was then bottled in 1978. Only 60 bottles were being produced. The bottles were made of crystal decanters. The whiskey showed a deep amber hue. The taste is fresh and refined. It is of citrus flavor. The drink also exhibits some kind of spice and zest once the drinker tastes it.
8. Glenfarclas 1955 – $10,878
It is said that in 1865, John Grant bought the Glenfarclas Distillery in Ballindalloch in Scotland from Robert Hay. The distillery, at that time, was already running for 29 years. To celebrate his ancestor's birthday, George Grant handpicked a barrel in 1955 that would honor the man who started the family business. This barrel was then bottled after long 50 years in 2005. The barrel was able to fill 110 bottles, all of which were sold even before the drink became available on the market. The whiskey has the usual Speyside malt taste associated with Glenfarclas.
9. Macallan 1939 – $10,125
The Macallan 1939 hails from the distillery company's Fine and Rare collection. The whiskey was first bottled in 1979 after having it stored for 40 years. It comes in as one of their classic Lalique crystal decanter. Macallan is known for producing a strong collection of whiskeys which may pale in comparison to the three others on this list, especially when tasted side by side with the Macallan 1946 and Macallan 1926. The advantage of the Macallan 1939 is that it is more widely available and comparatively cheaper. You may enjoy the soft and smooth taste normally associated with the expensive siblings.
10. Chivas Regal Royal Salute 50-years-old – $10,000
Chivas Regal released a specially-made whiskey called the Chivas Regal Royal Salute in 2002 to celebrate the golden jubilee of Queen Elizabeth II. Just like the queen's ascension to the throne, this whiskey too was laid to a barrel in 1952 and aged for 50 years. It was bottled in time for the celebration. Around 255 bottles were made this time. The whiskey is contains a raisin and cloudy anise flavor.
The following two tabs change content below.
Akshay Agarwal
Entrepreneur,Life Learner Husband and Father.Proven leader in digital strategy, marketing, attribution and marketing analytics. Passionate believer in user experience and the building of community.
Latest posts by Akshay Agarwal (see all)