India too does not lag behind in the number of shoppers across the nation. So, to make shopping an awesome experience various beautiful and swanky malls have come up rich in global and Indian fashion stores, super markets, restaurants, movie theatres and entertainment zones. Have a look at the top 10 most elegant and biggest malls in India and plan you next shopping whenever you are in that state.
1. Phoenix Market City Mall
This big and fancy mall belongs to the Mumbai, Maharashtra covering an area of 4,050,000 sq ft. You will find each and every necessity being fulfilled here. It is the hub both youngsters and aged alike in the weekends.
Mumbai, Maharashtra
Total area: 4,050,000 sq ft
2. Phoenix Market City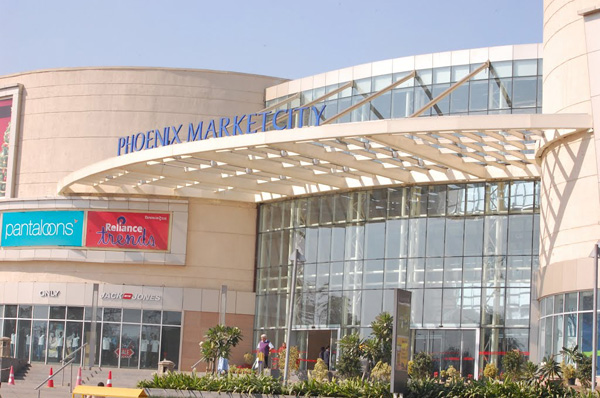 At Phoenix Market City Mall you will get everything from shopping to dinning to movies to entertainment. This biggest mall of Pune is a hub for holistic lifestyle and leisure experience.
Pune, Maharashtra
Total area: 3, 400,000 sq.ft
3. Lulu Mall
Kerala too, is the home for one of the biggest mall in India. The Lulu mall is the shopping hub and a major financial center of the state.
Kochi, Kerala
Total area: 3,900,000 sq ft
4. Phoenix Market City
The Phoenix Market City has everything for the perfect weekend with your friends or families. It is an ideal hangout spot because of its retail malls, entertainment complexes, commercial space and hospitality unit.
Chennai, Tamil Nadu
Total area: 2,400,000 sq ft
5. Great India Place
It is one of the biggest operational malls in India placed in Noida. It is famous for its dream palace theme and unique ambience. It is a place to arcade your absolute shopping ecstasy.
Noida, Delhi
Total area: 1,500,000 sq ft
6. Mantri Square mall
This is another biggest mall in India that actually unveils and let you decide exactly what you want without any confusion. This elegant fashion hotspot in rich in its store and has everything you want under one roof.
Bangalore, Karnataka
Total area: 1,700,000 sq ft
7. Select Citywalk
This is one of the biggest and popular shopping mall in Delhi mostly known for its shopping center, multiplexes, serviced apartments, offices and public spaces.
New Delhi
Total area: 1,300,000 sq ft
8. AlphaOne Mall
AlphaOne Mall is the biggest shopping mall in Ahmedabad and the largest mixed used city centre in the state. It is the hangout spot for people for all age alike.
Ahmedabad, Gujarat
Total area: 1,200,000 sq ft
9. Z Square shopping Mall
Z Square shopping Mall is famous for its 4 screen multiplex and the various shops and food courts. It is abundant in the latest range of clothing, footwear, beauty and fashion accessories for the entire family along stylish home ware.
Kanpur, Uttar Pradesh
Total area: 1,500,000 sq ft.
10. Neptune Magnet Mall
Neptune Magnet Mall takes you on a tour of the most exciting shopping experience you ever had. It is also considered as the India's largest family entertainment hub.
Mumbai, Maharashtra
Total area: 1,056,000 sq ft
What are your views on these malls? Leave us your comments below.
Search Topic:
biggest mall in india
largest mall in india
The following two tabs change content below.
Akshay Agarwal
Entrepreneur,Life Learner Husband and Father.Proven leader in digital strategy, marketing, attribution and marketing analytics. Passionate believer in user experience and the building of community.
Latest posts by Akshay Agarwal (see all)