'The sky broke like an egg into full sunset and the water caught fire' – Pamela Hansford Johnson
Sunset has always been the fantasy of people down the ages. Each and every location across the globe has different scenery to mesmerize you. Every setting is unique and so is the view. The sky at sunset looks like a beautiful carnivorous flower all ready to dye the evening purple and blue black.
Dipped in the aura of natural splendor, we have come up with the collection of the top 10 best places to watch the sunset around the world and get swayed away to the land of peace and tranquility.
Canals of Amsterdam
 Amsterdam is full of perfect spots to watch the sun set over its romantic canal. There are more than 400 bridges to let you enjoy the spectacular view.
Grundarfjordur, Iceland
The blemish free Icelandic town is adjusted between a mountain range and a lava field. The outcome is intense background scenery with sun dropping below the horizon.
Santa Monica Pier, Los Angeles
Experience the light of a ferris wheel reflecting off of the breaking waves under this California sunset as you watch people play miniature golf on the cost.
Taj Mahal, India
You will be the luckiest if you could grab the site of Taj Mahal during sunset. Do not forget to carry your camera along.
Puglia, Italy
In the Mediterranean, on the boot of Italy lies a beautiful combination of unspoiled beaches, rocky cliffs, and quaint towns to assure a unique and memorable sunset every single day.
Great Pyramids, Egypt
With yellow sand and camels stretched till the horizon, the exoticism of the ancient world comes back to life every evening when the sun turns pale.
Tanah Lot Temple, Bali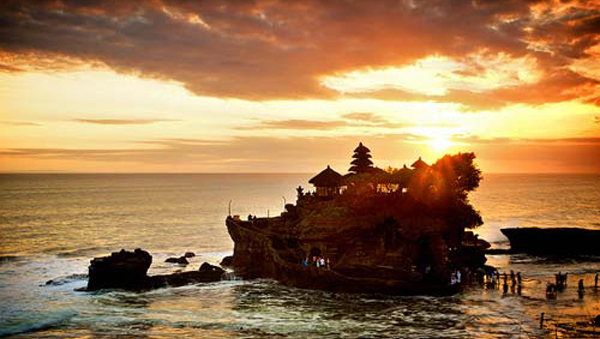 You gasp at the surreal aura of the Tanah Lot temple saying, "This cannot be real!" As the sun prepares itself to set in the background, the shallow water bridge looks all the more charismatic.
The Maldives
Above the untouched natural scenery and the beautiful beaches in the isolated Maldives lies an amazingly beautiful picture perfect sunset.
Grand Canyon, Arizona
Fantasy meets reality in the Grand Canyon of Arizona every single evening. The view from the south rim, as visitors say is unbeatable.
Ayers Rock, Australian Outback
Ayers Rock or the Uluru is the largest monolith in the form of a single massive stone in the world. As the clouds move across the sky at sunset, the orange and red hue it throws out gives the view of your lifetime.
Search Topic:
The following two tabs change content below.
Akshay Agarwal
Entrepreneur,Life Learner Husband and Father.Proven leader in digital strategy, marketing, attribution and marketing analytics. Passionate believer in user experience and the building of community.
Latest posts by Akshay Agarwal (see all)