A Mid-Day photographer caught three men in his camera molesting a female devotee during a Hindu religious procession.
The location is Mumbai and the occasion was Ganesh Chaturthi where devotees worship the Hindu god of prosperity, Lord Ganesh followed by immersion (visharjan) of his idols into the sea.
Every year on the final day of emersion, millions of devotees would throng the streets of Mumbai to immerse the city's most popular Ganesh idol known as "Lalbaughcha Raja" or King of Lalbaug, into the Arabian Sea. This year it happened too.
Atul Kamble, a photographer with the Mumbai tabloid Mid-day was able to capture these horrific images of men allegedly molesting a woman in the massive crowds on 20th September.
Kamble was present on the eve of this auspicious day to capture some "mood shot" when he spotted a girl "battling her way through the crowd." He could get notice a group of men touching people excessively "in the guise of pushing them along."
Kamble justifies that he observed one man "grab the girl, not once but several times, on the pretext of stabilizing himself."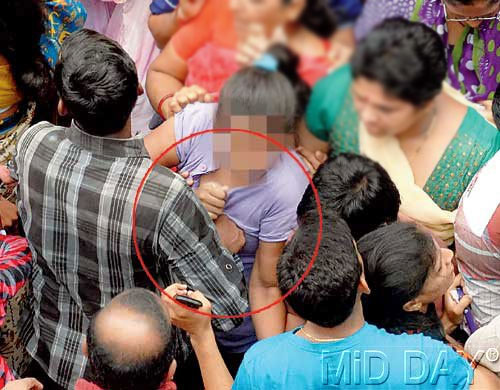 Here is the man.
Kamble also captured two other men trying to molest the woman who was struggling to fight them off in the huge crowd. Kamble said the men were "adept at disguising" their movements to make it seem like they were just jostling people around.
Kamble said the men "appeared to be professional molesters, mingling with the crowd with one specific aim, just like pickpockets do."
But, Kamble was unable to help the woman as he was stationed in a flyover. It was also shocking that no cops were seen nearby. He says," All I could do was to keep shooting and capture the heinous act and hope that the pictures help bring the culprits to justice."
However, Mid-Day contacted police officers about the incident. Below are their responses:
Joint Commissioner of Police, Sadanand Date: I cannot comment on it unless I see the photographs.
Additional Commissioner of Police (Central Region), Praveen Salunkhe: I am on leave.
Deputy Commissioner of Police (Zone IV), D Karale:  I cannot comment on this as I am busy at my relative's place.
Senior Police Inspector Sunil Tondwankar of Bhoiwada police station:  There was a foolproof bandobast (preparation) at the spot. We have not come across any such incident or complaint so far.
Search Topic:
molestation in crowd
bhabipics com
The following two tabs change content below.
Akshay Agarwal
Entrepreneur,Life Learner Husband and Father.Proven leader in digital strategy, marketing, attribution and marketing analytics. Passionate believer in user experience and the building of community.
Latest posts by Akshay Agarwal (see all)