Instapaper ($3.99)
There must be many a time when you come across certain web pages that you wish to go through at your sweet leisure time. You simply bookmark those pages or use Safari's Reading list. Similarly, you may save web pages to your iPhone and read them at your convenience once you download the Instapaper iPhone app from Marco Arment.
So, the next time when you're surfing the web on your Mac, PC, iPhone, iPad, or iPod touch and come across a page you want to read later, select the special Instapaper Read Later bookmarklet (a special bookmark that uses JavaScript). Read the page any time you want with the Instapaper iPhone app.
OldBooth ($1.99)
OldBooth is a fun app too. What it does is it lets you take any full-face photo and apply goofy transformations to it. What is most interesting in old booth is that all the fun pack worth less than just two bucks.
But even if two buck sounds to you as too much, you can also get a free version called OldBooth Lite, but with limited number of masks.
WordsWorth ($1.99)
WordsWorth is the perfect word game to increase your vocabulary. You form words by tapping letters on the screen. Longer words using rarer letters (such as J, Z, and Qu, for example) score more points than shorter words with more common letters.
The app also includes certain tiles like blue wild cards, green bonuses and red timers.  The gold tile helps you grow your score. The timer tiles are the most insidious; if their time runs out before you've used the letter, your game is over.
GottaGo ($1.99)
Did you ever want a perfect excuse to leave a meeting but could not find one? In that case, you are sure to love this awesome app. This clever app lets you create a bogus phone call or text message and have it appear on your iPhone at any time you choose. Set the timings accordingly and let your iphone ring. It will sound like a real phone call or text message.
The GottaGo Unlock screen is animated to give a realistic feel. You can even attach an image to your GottaGo caller. You can also record custom audio that you hear when you answer the fake call. And you can select your own wallpaper and ringtone to make the effect even more realistic.
iTeleport ($24.99)
iTeleport is a VNC (Virtual Network Computing, also known as remote screen control) client. Therefore, it is not cheap but not geeky too. It is full of cool features. In other words, it is an iPhone app for controlling your Mac, Windows, or Linux computer "from a few feet away or from halfway around the world."
You can indeed see your computer screen and control its keyboard and mouse from anywhere in the world (as long as your iPhone can connect to the Internet through Wi-Fi, 3G, and EDGE etc).
Glee (free but $1.99 to $2.99 for songs)
As the name implies, glee is an app based on the popular Fox TV musical series Glee. This wonderful app from Smule initially bursts onto the scene by turning an iPhone into an ancient flutelike instrument called an ocarina.
You use your own voice in Glee. This app gives you a chance to compete globally for starbursts which you earn for yourself. Earn extra points by keeping to the melody.
If you share your songs via Twitter or Facebook, or e-mail them, you might gain a following of gleeks too.
Baseball Statistics 2012 Edition ($2.99 for latest stats)
Baseball Statistics 2012 Edition is considered to be a dream app for every passionate baseball fan. What makes this app great is the statistics defining the sport since the 19th century.
Baseball Statistics from Bulbous Ventures puts all those stats at your fingertips, so you can settle barroom bets or just relive memories of favorite ballplayers from when you were a kid.
Air Video ($2.99)
Air Video helps in streaming video from your Mac or PC to your iPhone. It needs a cellular or Wi-Fi connection. You can also use it with all common video formats, and also convert most formats on-the-fly. It lets you start watching your video immediately after you select it.
Is it sounding familiar? Yes! It sounds a bit like Apple's AirPlay or Home Sharing. The difference is that AirPlay and Home Sharing work only with devices on the same Wi-Fi network whereas Air Video works over any Wi-Fi or cellular data connection; which means that so you can watch movies stored on your computer regardless of where you are.
My Secret Folder ($.99)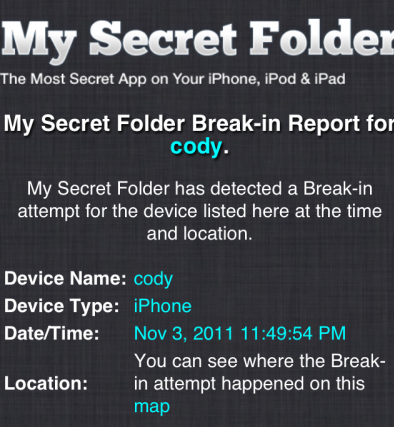 My Secret Folder gives you a secret place to stash photos you want to hide from family members, your boss, and anyone else who might get at your phone and take a peep.
You can also create albums for secret contacts, secret notes, and even bookmarks a site from a secret web browser. You can take pictures from within the app or import them from elsewhere on your phone.
TurboScan ($1.99)
TurboScan app converts your iPhone into a scanner. It lets you scan and get hold of high-quality PDFs. It is indeed a fast and processes a page in less than four seconds. It also detects paper edges to help improve accuracy. If you tap the SureScan 3x button, you can take three pictures of the same document, and the app will process them into a single superior image. Scan can be done either as color or monochrome.
The following two tabs change content below.
Akshay Agarwal
Entrepreneur,Life Learner Husband and Father.Proven leader in digital strategy, marketing, attribution and marketing analytics. Passionate believer in user experience and the building of community.
Latest posts by Akshay Agarwal (see all)