With the infusion and creation of android apps in smart phones and laptops, today, we are able to save a great deal of your expenses. For instance, free apps to get you through banking transactions with ease, to book travel and movie tickets, to read news and watch videos are available in the market today. There are also free apps to make free voice and video calls at your convenience. Read along for the top 10 best android apps to make free calls.
1. Skype
Skype is one of the most popular VOIP and IM software you will find in traditional PCs. Skype app is downloadable for all mobile platforms in the world. Android users can call iPhone users on Skype. The app also offers instant messaging, voice or video call, video messaging, and photo sharing with other Skype users.
2. Tango
Tango let you connect with your friends & family or make new friends through video & voice calls, text messages, play games etc for free. It allows you to communicate and interact with friends whenever you want just like any other social networking app.
After you are done creating your account, the app will automatically find your friends who are Tango too. You can group chat with up to 50 friends, personalize your calls & messages with fun animations, play a mini-game or share photos during a call, edit your photos & share with friends and a lot more.
3. Yahoo! Messenger app
The official Yahoo! Messenger app is another choice available for video calling from your android device. You can chat with Facebook and Windows Live friends from the app itself. It also allows users to send SMSs for free to both local and international contacts.
4. Google Hangouts
Google Hangouts is the reincarnation of Google Talk and is optimized for mobile devices. With Hangouts you are allowed to make one-on-one and group conversations with photos and video calls for free. This awesome app is available for all the major platforms like Android, iOS, Windows Phone. You can turn any conversation into a video call with up to 10 friends with Google Hangouts. When you start a new Hangout, green icons will show you who's on, and gray shows who's not
5. Fring
Fring allows you to make free Calls, group Calls, texting, video and group Video. The interesting thing about Fring is that it is not region specific. It continuously adjusts video call quality to match your connectivity. You can use your phone number for registration instead of username and password and call up to 4 friends in one go. It also let you make free calls to mobiles and landlines with fring.
6. Viber
Viber also allows you to text, call, and send photo and video messages in any part of the world. Today, it has more than 200 million users across the globe. Your ID is your phone number in Viber. You can call up to 40 friends in one go and also share photos, videos and locations, create and send doodles. The app syncs with your mobile contact list and let you detecting friends who are on viber too.
7. WeChat
WeChat app let you make free text, voice message, and video call from your Smartphone. You can instant message with group chats and animated smiley to. This app makes your Smartphone a Real walkie-talkie and connects to up to 40 friends in one go. You can also share, like, and comment on photos with your friends like in other social networking sites.
8. ooVoo Video Call
The ooVoo app let you make multi-stream video call with up to 12 people in one go. This popular video calling service records over 75 million users.
The app has this awesome feature where it adjusts your video call to match your connection speed to allow you to keep taking without getting interrupted even when your network is down. You can view friends' profiles and connect via video call, voice call, instant text or video message. The app searches all your friends on ooVoo, Facebook, Twitter, Gmail and your personal contact list too.
9. Paltalk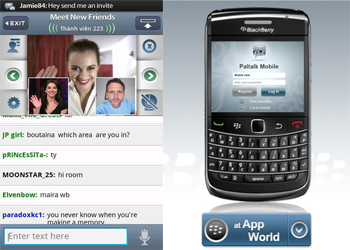 The Paltalk app makes use of a number of communication protocols to get people into contact and let you make calls for free. With Paltalk, you can sing live karaoke, listen to music, join a lively political debate or play group trivia. You are also allowed to choose from thousands of live chat rooms. You can broadcast video over 3G, 4G or WiFi through Paltalk.
10. LINE
LINE allows you to make free voice calls, video calls and send free messages.
Today, it has more than 260 million users worldwide and is used in over 231 countries. You can update your friends about your status through its timeline. You can add text, photos, movies, stickers and even location info.
The following two tabs change content below.
Akshay Agarwal
Entrepreneur,Life Learner Husband and Father.Proven leader in digital strategy, marketing, attribution and marketing analytics. Passionate believer in user experience and the building of community.
Latest posts by Akshay Agarwal (see all)