AirDroid is a user friendly tool that allows you to manage your Android device remotely over the web. Read on to check out the services it has to offer.
AirDroid Remote Management
Start with the first step by signing up for a free AirDroid account. It you get irritated by a bunch of data on the form, simply use your Twitter, Facebook or Google account to start along with the process.
Next you will have to connect your phone to AirDroid. Well, this is pretty easy too. All you need to do is to scan the QR code on your computer screen with your phone or tablet. It will directly point you to the app's address. You may also install the app directly from the Google Play Store.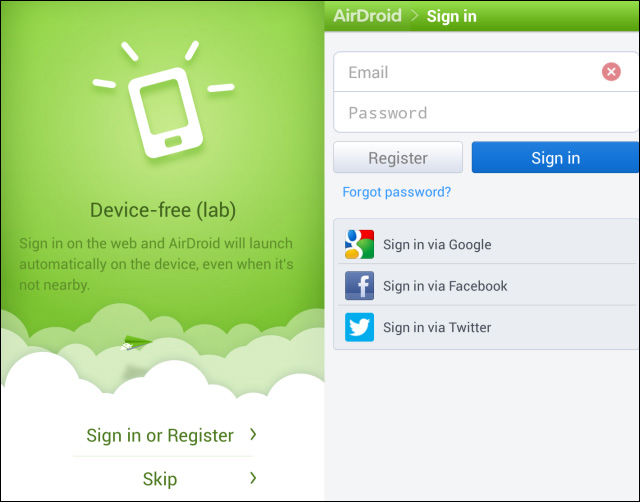 After the installation is complete, start the app on your device and sign in with the same account you used when signing up.
Now you will have to activate a device administrator which will allow the app few more permission. Follow the same procedure as you do in Android Device Manager. But only note that if you want to use this app, you will need to go to Tools and then Uninstall, in the Android app. You cannot uninstall it as other apps.
You will be given an address where you can access AirDroid. The Tools menu will give you some more features to use if you hold on for long. Do that by securing your internet connection or by closing some of the running tasks.
If you plan on connecting to your phone through the internet, use the web address.  And if your phone is connected to a WiFi network, use the address below. In the latter case you'll have to allow the connection from your phone. But the only disadvantage is that you won't get as many features.
Once you are in, there are quite a few things you can do on your Android device from the site. For people who are too lazy like me to go pick up their phone from another room in the house. Or maybe your phone is at the office and you need to access it.
This is an awesome interface allowing you to interact with your phone easily. Below are a few examples:
There is a Camera icon that let you view whatever is in front of your Android device's cameras and take snapshots. You may blend this feature along with an Android device and replace with a security camera or baby monitor.
Clicking on the Message icon enables you to text from your phone and manages your messages straight from your computer's keyboard which speeds things up.
You can also check out your call logs and see if someone called you.
Interestingly, if you want to listen to a song you have on your computer on the amp that's hooked to your PC no one can stop you from doing that too. Click on Music and upload songs to your phone.
Well, I love the function that the player sticks around even if you close the song list. This means that you can listen to music from your device even while using AirDroid for messaging or other tasks.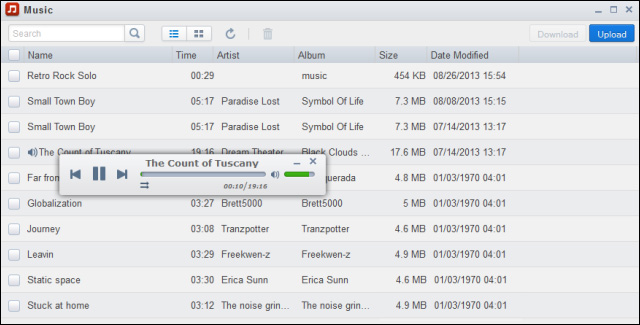 A contact manager is also available from where you may initiate calls, send messages or edit contacts. The file manager, ringtone, image and video management are also present and are very user friendly.
Now, if you want to take screenshots though your device you will have to be rooted and give the app additional permissions.
The app manager also lets you install non-Play Store apps by just uploading the APK file directly. You are also allowed to delete apps from your device from its interface.
Let's talk a bit about the Phone Finder feature now. Using it is as easy as clicking its icon and signing in again. You will see your device on a Google Map in a few seconds. The map will even allow you to use Street View to see where it exactly it.
The tool box comes with another interesting feature. It allows you to drop a link, file or app on it and transfer to the device.
Thus we can see that AirDroid has a lot of perks to offer and is an easy to use intuitive interface with a fee limitation on the free account. For example, you only have 100 MB of traffic to use for transferring files to your phone each month.
The premium account includes 1 GB of remote data traffic thus allowing you to send larger files. It also has a few other additional features which are shown below. The membership fee is $1.99 a month, $19.99 per year or $38.99 for two years.
Search Topic:
The following two tabs change content below.
Akshay Agarwal
Entrepreneur,Life Learner Husband and Father.Proven leader in digital strategy, marketing, attribution and marketing analytics. Passionate believer in user experience and the building of community.
Latest posts by Akshay Agarwal (see all)