Clothing is becoming fashion lifestyle nowadays. Everyone wants to be look attractive and impressive. Indian economy has brought many multi-national companies in India. International brands are getting affordable and pocket friendly for middle class society in India. There are a lot of clothing brands which has set up a benchmark in India through their high quality products. The brands are available in all the major cities in India. The brands are endorsed by popular bollywood celebrities like Hrithik Roshan, Sharukh Khan, Anushaka Sharma, Kareena kapoor, etc. Clothing is very important of our life like shoes, jeans, girls top, t-shirts, shirts, etc, clothing makes our life easier and comfortable. Indian Consumers wanted to be more stylish and glamorous so they can be recognized in society as fashion icon. There are many brands available in market for men and women. You can shop different categories of clothing from online shopping websites also.
Check out the top 10 most popular clothing brands in India which makes you feel gorgeous and stylish are:
Lee India
It is one of the famous and leading producers of casual clothing. It was launched in 1889 in India. It is famous for men and women apparel having a wide range of jeans, men t-shirts, shirts, women jeans, jackets, sweaters, sweatshirts, etc. you can check it website for more information on products.
Levi's Strauss & co
The company was introduced in 1853. It is a denim clothing brand in India.  The company's legalized office is located in Saint Francisco. The company has brand name Levis India in its association. The company offers denim products like jeans, top, t-shirts, denim jackets, etc.
Jack and Jones India
The company was established in 1975 and its leading seller of men's clothing products. It is available in all major cities of India. 5 different brands are associated with the company. Consumers can buy clothes from company's shopping website for offers and discounts on selected range.
Bombay Dyeing
The company is eye appealing for middle class family in India. It is founded by Nowrosjee Wadia in 1879. It is a leading producer of men and women apparel and other products like bed sheets, bathing towels and napkins, etc.
Wills Lifestyle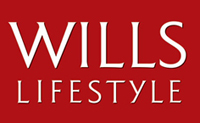 The company avails whole variety fashion clothing and accessories. The company offers clothing for both men and women. It provides personal care products like perfume and cosmetics. You can take a look on company's website for buying products online. There are different offers are available on selected products and combos.
Van Heusen India
The brand was incorporated in 1990; the brand offers clothing for women and men working in corporate world. Deepika padukone is the brand ambassador of this company. The brand has its own website for shopping online. You can avail season end sale and offers on website.
Gucci
The company is named on the founder of the company i.e. Gucio Gucci and it is started in 1921.  The company has introduced Italian clothing in India. The products of this include are men's shoes, shirts, watches, belts, perfumes ,etc. it also offers products in women range like skirts, tops, jeans, perfumes and cosmetics. Consumer can avail online shopping facility form the company's own website also. The company offers discounted sale on different products online.
Nike
The company is a leading producer of men and women clothing in India. It provides collection of sport accessories and winter wear. The products include sport shoes, shots, floaters, jackets, sweaters, caps, shirts and many more. The company has also online shopping website of the products in India.
Adidas
The company is best seller and producer of sports apparel and accessories in India. The company provides products like racing shoes, walking shoes, floaters, shots, t-shirts, skirts, etc. Adidas also sponsors different events and football matches.
Polo Ralph Lauren
The founder of this brand is Ralph Lauren. The company has designed a magazine named R L Magazine which has details regarding their products. The products of this company includes men clothing, kids clothes, men clothing and infants clothes. The company's store is opened across India. Consumers can its website for online shopping purpose. They can avail offers and discount online.
Search Topic:
The following two tabs change content below.
Akshay Agarwal
Entrepreneur,Life Learner Husband and Father.Proven leader in digital strategy, marketing, attribution and marketing analytics. Passionate believer in user experience and the building of community.
Latest posts by Akshay Agarwal (see all)