30. Better Butter
Have you always been wondering about how to spread that butter on your toast? Well this time the knife is a part of the packaging. All you need to do is to open, scoop, and spread your butter. Now, nothing can be simpler than this. And what are your thoughts on yogurt lid turning into a spoon?!
29. Waterproof
Has the thought of putting a watch inside of a bag full of water ever occurred in your mind? At least for those customers who are skeptical, the packaging will prove the water resistance of the watch inside. Well, this is the cleverest way to prove that your product works and provide add on marketing as well. But the question is – Is the water drinkable? Well, I would suggest you not to be inquisitive and never try it!
28. Buns
On the first look at this picture the first thought that is sure to pop up is "What is this?!". With a closer look you will see that those were hamburger buns are made to look (vaguely) like abs. The package actually says "eat these buns and get super-ripped!" Yes! It is exaggeration. But don't you think it's funny?
27. Stadium Shoebox
Just open this box! You will be mesmerized to see thousands of tiny screaming fans. The interior of the box is actually made to look like a stadium. So if you are a huge soccer fan you must be hoping that it comes with little miniature soccer players too, so that you can stage your own shoebox World Cup.
26. Hungry Fishies
The designers of this bread packaging do not seem to be pulling any punches. They just want you to gobble it up. I only wonder what these fish would think if we make a tuna sandwich on their bread!
25. Origami Beer
Well, this beer label is sure to remind you of all the label-peelers out in the market. This time they will have something constructive to do with their hands. It is uncertain if there are instructions on the back of the bottle. The drinker may have to get some practice in if they're going to be able to complete the flower before finishing the beer.
24. Soda Cups
Now this is something awesome! A fun optical illusion of a cup resembling a bottle or maybe a pregnant with a bottle! Go out and fool your friends into believing that you're drinking out of a real live glass bottle.
23. Toothpaste Ad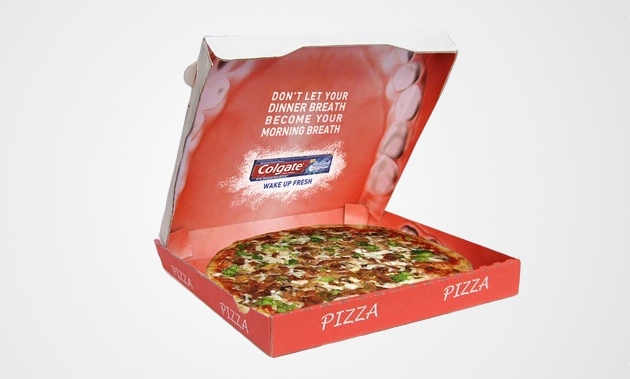 This Colgate ad on the inside of a pizza box lid is a very creative reminder, especially if you're on a romantic pizza-date. You will never ever forget to brush your teeth after that slice of garlic onion bacon feta pizza!
22. Wine Log
Well logs have no connectivity with wine, but yes! We like this one. Remove ribbon, take apart log, grab wine bottle, open wine bottle, pour into glass and enjoy. Just image the look of your friend when you hand it over as his b'day gift!
21. Cheese Pencils
These pencil-shaped parmesan sticks with a "pencil sharpener" are an artistic way to add flavor to your food. The included sharpener is specially made for perfect cheese grater. But I seriously wonder if it can sharpen pencils too!
20. Tall Order
New York City is not devoid of Italian food. Therefore, this pasta in the shape of the Empire State Building makes perfect sense. It also advertizes that you are eating NYC brand pasta. Do not worry; the different lengths of pasta will not affect your bowl of spaghetti!
19. CD Case
Are you throwing a party this weekend and planning on listening to this group's crazy tunes? Well the paper figures seen here appear to be members of the band. You are sure to have the time of your life with the adventure the music is going to bring. Ah yes! There are eleven people and a dog in this band too.
18. Bobby Pins
Are you in need of suggestions as to what to do with your bobby pins? Well this company has come up with one!  The pins are arranged in the shapes of various hairstyles. There are 24 bobby pins per package, which is just enough to complete the job!
17. Strawberries!
Please do confuse yourself! This marmalade is plainly made of strawberries and nothing else. The jar is shaped like a strawberry, alerting you to its delicious contents. This packaging is pretty awesome and luring, I must say.
16. Paint Brushes
This one is creative too. Paint brushes packed as the face of a man! I am sure looking at these you will hire someone else to do the painting job. The larger paintbrush is his enormous mustache, while the smaller brush represents his soul patch. Awesome! right?
15. Grocery Bag
This grocery bag explains what is about to happen to all that food inside. It has a clear window in the shape of a stomach, showing the world what you have just bought. Don't you think healthy food are more appetizing than junk when you see how will it end up in your stomach?
14. Haulin' Ads
This is a long cargo bed. The matchsticks look like lumber being hauled around by that tiny Ford truck. Now this is what you call advertizing! It looks like something straight out of a Mad Men pitch
13. Tea Hangers
Look at your new wardrobe! And once you take them out of their "closet," you can hang them on the rim of your cup. I find those tee shirt-shaped bags to be pretty snazzy. Don't you think so too?
12. Lunch Bags
Now this is the most anti-theft lunch bags I have ever seen. The green smudges will reflect any potential sandwich thief's stomach. Each sandwich bag is printed with fake green mold. You may not even want to eat our own sandwiches after looking at them though these packages.
11. Vampire Juice
Statutory warning: This energy potion is "for drinking." Do not attempt blood transfusions at home. This blood like fruit punch is a flavored energy drink in a bag that will make you look like a vampire getting wired.
10. Bread Gnome
What are your thoughts? Are you going to grab a bite of this adorable bread gnome?  Eating his head might be rude if he were real. But it is okay to try this printed gnome. It won't be disrespectful at all.
9. Fuzz for Sale
Don't these packets of fuzzy stuff bring a smile to your face? This is apparently thread, packaged to look like the hair of some very hairy men. Well, do not leave these on your nightstand before going to sleep; you might end up with high pulse rate in the middle of the night.
8. Over the Counter
The packaging on these drug store items gets right to the point. Don't know what to buy for your headache? Just get the package that says, "help, I have a headache." Problem solved!
The packaging on these drug store items knows how to bring out the best of a marketing strategy. If you are confused with what to buy for your headache? Just get the package that says, "Help, I have a headache."
7. Detergent
This cute little package looks like a miniature washing machine. This box not only tells you what is inside, but also indicates how much is left. It comes with a handle which you won't find in normal washing machines.
6. Coffin up a Lung
Coffin can never be fun! Can they? This coffin-shaped pack of cigarettes paints a very clear picture of your possible fate if you choose to buy it. It actually seems a lot cleverer than the packs decorated with rotten lungs.
5 Freshness Meter
Well science and its marvel! The hourglass-shaped stickers turn blue at the bottom after a certain amount of time has passed which will indicate the freshness of your meat.
4. Music to Your Ears
This is the most awesome example of packaging that requires no second thought on what to do with the product. These ear buds are wound around their packaging in the shape of a musical note and are even called "note."
3. Cute Skeletons
These packs of gum look like cute little gum-creatures. Once you remove the skin by opening the box you will be left with cute little skeleton-gum-creatures inside. Each has different expressions. Hope the sad ones tastes good too!
2. Wooden Utensils
These utensils are not made of plastic or metal.  The packaging clearly shows that they're made of wood, which comes from trees, which are grown in the dirt. This is pretty cool though!
1. God Save the Queen
Well, she might not need rescuing at all as Her Majesty looks like having a great time soaking in that tea. These innovative teabags in the form of English royals are quite impressive. I wish for an Obama version too!
The following two tabs change content below.
Akshay Agarwal
Entrepreneur,Life Learner Husband and Father.Proven leader in digital strategy, marketing, attribution and marketing analytics. Passionate believer in user experience and the building of community.
Latest posts by Akshay Agarwal (see all)