A majority of the smartphone users today prefers qwerty keypad. It is being converted to a trend. The market is still abundant in a plenty of qwerty mobile phones for the users who still uses keypad instead of touchscreens.
The young generation today finds it easier to use qwerty to type and text while smsing and social networking. Text messages can be done quickly and hence is not time consuming at all. Almost all brands like Nokia, Samsung, LG, Micromax are equipped with qwerty keypad.
Due to the emerging popularity of Qwerty smartphones in India, the market has adopted five trendy and simply sleek Qwerty smartphones that is sure to generate fair amount of money and also help users to be engaged as well as entertained.
Below is a list of five hottest qwerty smartphones available in the market.
Nokia Asha 302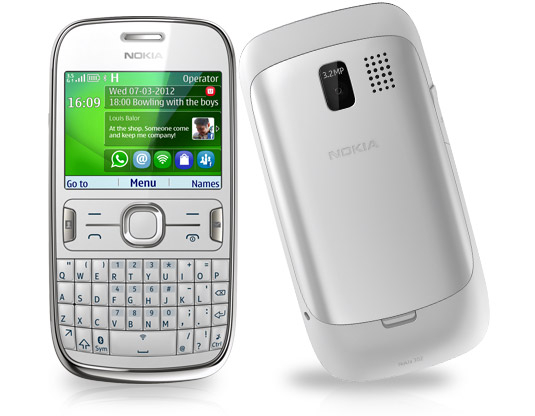 Nokia ASHA is one of the recently launched Qwerty mobile phone that has entered the market and can be bought in your budget. It features 2.4 inch QVGA TFT display, OVI app store, 1 GHz single core processor, 3.2 megapixel camera, WI-Fi, 3.5 G connectivity. It has an expanded memory with Micro-SD card at a rate of 32 GB.
Nokia ASHA 302 costs INR 6,411.
Samsung Galaxy Chat
If you are a fan of android along with QWERTY keypad we recommend you Samsung Galaxy Chat. Galaxy Chat features 830 MHz CPU and is also supported with Android 4.0(Ice cream sandwich) OS. It has a 3″ touchscreen, 2 MP camera, Wi-Fi connection, A-GPS. The battery is supported with 1200 mAh capacity.
Samsung Galaxy Chat costs INR 8,500.
Blackberry Curve 9320
Blackberry Curve 9320 features 2.44 inch screen, 164 ppi having a resolution of 320 x 240 pixels and 30.2 megapixel camera, 512 MB RAM, Wi-Fi connection, 3G connection besides supporting Blackberry app store. Blackberry messenger is the best feature of all. The capacity of battery is 1450 mAh with a backup of 7 hrs.
LG Optimus Pro C660
LG Optimus Pro C660 is a Touch cum QWERTY smartphone. It is run by Android v2.3 OS (gingerbread).The battery has 1500 mAh. It has a 2.8 inch (QVGA) touch screen, 3 megapixel camera and 800 MHz processor.
LG Optimus Pro costs INR 8,490.
Samsung Chat 527 3G phone
Samsung Chat is a GSM phone operated with Qwerty keypad and optical track pad. It supports both 2G and 3G applications along with GPRS, Edge. The phone features a 2 megapixel camera with 1600 x 1200 pixel resolution. It is powered with Li-Ion 1000 mAh battery with 3 hrs of talk time backup. The smartphone is pre loaded with Java games and animated wallpapers.
Samsung Chat 527 costs INR 4382.
The following two tabs change content below.
Akshay Agarwal
Entrepreneur,Life Learner Husband and Father.Proven leader in digital strategy, marketing, attribution and marketing analytics. Passionate believer in user experience and the building of community.
Latest posts by Akshay Agarwal (see all)