When it comes to Tinsel town every affair is grand and if it a matter of marriage of our celebs media hunts down every minute details. Be it about their mehendi designs, sangeet performances, wedding outfits or guest list, their every move comes under scanner. Many of the would-be couples tend to add some bollywood style in their wedding. If you too fantasize about the same, why not start from the wedding invites? It is seen that our B-town invest a lot of thought and imagination into their wedding cards. Below are five of the best invites Bollywood weddings have ever had. Check out their unique and interesting style of presentation.
Aishwarya Rai and Abhishek Bachchan Wedding Card
The wedding was of Big B's son and former Miss World. Thus, every thing had to be grand and special. Their invitation was on hot platter in the market then. It had three golden colored boxes with two big entwined 'As' drawn on them. A red ribbon was used to hold the boxes together. The first compartment contained the invite while the second box had 24 pieces of mithai made from chocolate especially imported from Switzerland. An idol of lord Ganesha was placed in the third box.
Symbol 'AA' was placed on the cover of the card. It was embossed on red in white gold. Lord Ganesha who is considered auspicious among the Hindus was printed on the second page with a few shlokas encrypted in golden letters. The third page had a Hindi poem penned by Amitabh Bachchan's late father and poet, Harivansh Rai Bachchan. And the remaining pages contained the formal invitation to the wedding and other details of the ceremonies. The card was printed in both Hindi and English. The parents also signed each card to give a personal touch. This happy couple got married April 20, 2007.
Shilpa Shetty and Raj Kundra Wedding Card Box
Shilpa Shetty and Raj Kundra's wedding had every royal element added to their wedding. The couple made sure that their wedding card reflected the sense of style and imperialism. The couple had a royal square-shaped golden colored wedding card, personalized with a special royal crest with their initials 'RS' on it.
Lord Ganesha's face was imprinted in the middle of the invite and shlokas were printed on the flaps of the card. The wedding ceremony details were seen in booklet style in this box. There was also a customized chocolate box for invitees. Both the invitation and gift box were tied together with a golden satin ribbon. However, the ribbon was personalized too with a vinyl logo cut on acrylic. This elegant couple tied the knot on November 22, 2009.
Imran Khan and Avantika Malik Wedding Invitation
The Bollywood heartthrob Imran Khan married his childhood sweetheart Avantika Malik only a little while after entering B town. Their wedding card reflected their playfulness and imaginative style. The card contained two black and silver boxes with 2011 encrypted on them. While one of the boxes contained customized chocolates, the other had a year-planner diary, potpourri fragrance and a pinwheel in it. The wedding details were seen on a yellow paper attached to the pinwheel.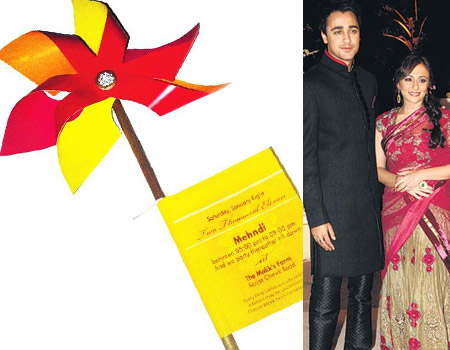 The box also included a swipe card for the security and guest identification. On the other end of the swipe card a map with the wedding venue was marked on it. This trendy couple had a registered their marriage on January 10, 2011. Later on uncle Aamir Khan organized a grand reception for them.
Vivek Oberoi and Priyanka Alva Marriage Card
The wedding invite of this beautiful couple is considered to be the costliest affair in Bollywood. The card was made from crushed gem stones and real gold with two segments. The first had chocolates and the other contained separate invites for different marriage ceremonies like mehendi, sangeet, wedding and reception.
As for the special invitees, the card had a unique-limited edition of Ganjifa painting. It resembled a jewelry box made of velvet. The invitation and the bag carrying the card were made from handmade paper that was fully recycled. About 2000 cards were sent out. This lovely couple got married on October 29, 2010.
Esha Deol and Bharat Takhtani Box Wedding Card
When Bollywood 'He-man' and Dream Girl's eldest daughter married businessman Bharat Takhtani, it was a total star-studded affair. Their wedding card too was as elegant as the wedding. It was placed on a beautiful golden and cream re-usable box.
The card was personalized with their gold plated initials placed inside a lotus motif accompanied by Om and Swastika. Moti-choor ladoos and dry fruits were sent along with the card. The card also contained images of Radha-Krishna to add a divine allure to it. They charming couple were wed locked on June 29, 2012.
These were some of the best wedding cards from Bollywood. All the best with your personalize and creative wedding cards. Hope you could use some of these ideas too.
Search Topic:
wedding cards
abhishek aishwarya wedding cards
The following two tabs change content below.
Akshay Agarwal
Entrepreneur,Life Learner Husband and Father.Proven leader in digital strategy, marketing, attribution and marketing analytics. Passionate believer in user experience and the building of community.
Latest posts by Akshay Agarwal (see all)